GOKISO engineers' passion, inspiration and technologies are
all compacted in GOKISO Hub. We present our inventive technology
for the first time to demonstrate our Innovative structure.

You will be impressed to see the wheels keep rotating "forever" with the least input. The hub structure, the materials and the configuration are the features original to GOKISO that our engineer sought every possibility in a bicycle hub from zero. The best rotation performance which can handle 100kg of load and 300km/h; this is what we have achieved and this is our commitment for the absolute rotation smoothness. In addition, GOKISO's shock-absorbing mechanism gives such a light and smooth ride as you would be flying in the air.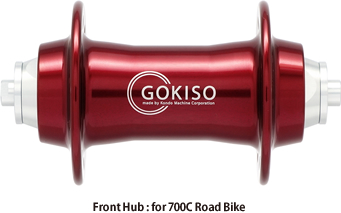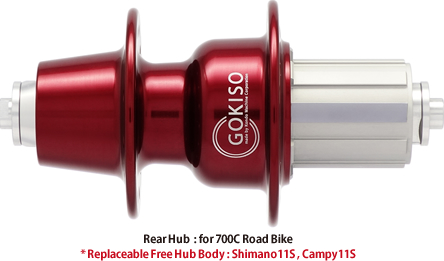 * The newest specifications different from above photographs.

Learn a key structure of the GOKISO's bike hub.

*Elastic suspension structure : Japanese patent No.5514303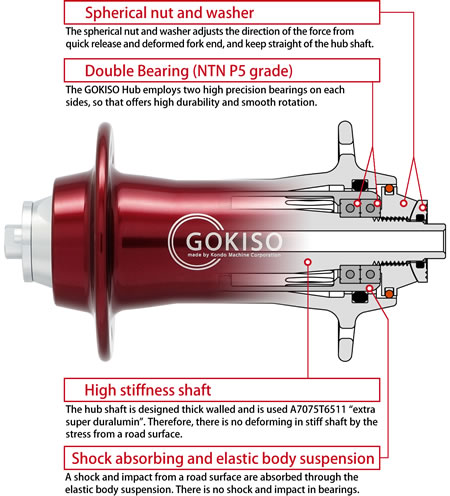 Removal and maintenance of free body with the GOKISO special tool, and Campagnolo compatible freehub body and Shimano compatible freehub body are replaceable. (Shimano 11s ⇔ Campagnolo 10/11s)
Special tool designed for the GOKISO Hub is able to easily replace and maintain the freehub body of the GOKISO Hub which are precisely assembled without damage.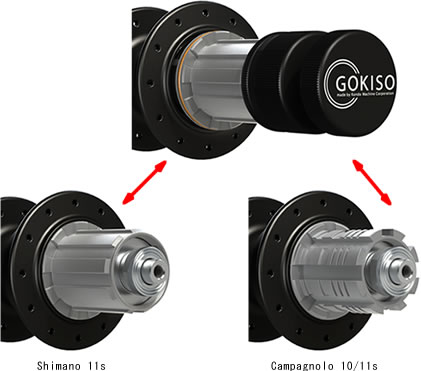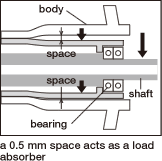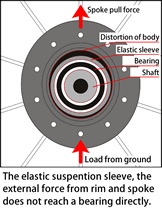 Cobblestones bike racings are popular bicycle tours in Europe. When racing on such a rough street, a hub must bear a deadly impact (approx. 600kg weight) in every moment. With a standard hub structure, a shaft easily gets deformed and axle becomes deflected causing bearings to twist.This creates a constant"put on brake"condition on the bearing, caused by abraded steel bearing balls . As a result, more pedaling force is required. GOKISO Hub adopts a spring-structured and elastic body suspension around the bearings with a 0.5mm play to absorb the shock. This system minimizes the shock without sacrificing its rotation performance.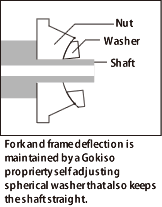 A slim and lean shaft sounds ideal for light-weighted bicycle hubs, but it lowers the strength and makes a shaft more vulnerable to deflection. A hub shaft could get deformed during wheel installation.Our spherical nut and washer are the successful solution for these problems. By keeping the hub shaft straight regardless of frame deformation, we have achieved the highest rotation accuracy without abrading or damaging the bearing.


Jet engine bearing machining technologies and ultra-precision machine designs: all this come together in our high quality design which goes far beyond the standard bicycle.
The GOKISO Hub is processed individually from a metal block with the NC lathe and manually mirror finished, making it incomparably shining and smooth.


haft deformation and deflection occur due to various external forces, includig the rider's weight, constant motion, and a tension caused by the frame and hub being clamped with a quick-lever. GOKISO's shaft structure is five times stronger than a standard shaft which is slim, light but fragile. With the new shaft system, we have achieved the highest rotation accuracy by maintaining that the shaft is absolute straingtness. The weight of our hub (240g Front / 455g Rear )is a result of the shaft durability and thickness of the body.


In general, a bike rear hub withstands three different forces; thrust force, frame weight and gear torque, by Applying the leverage mechanism intelligently, our innovative hub design has a double-layered shaft structure – main shaft and bearing holder shaft, so that any exterior force, no matter how complicated and massive it might be; is always distributed evenly throughout the shaft.

The ratchet mechanism used in our hub system is a pawl-type ratchet. What is unique about the GOKISO Hub is that it has 4 pawls/92-teeth; having more teeth while still maintaining the enhanced rigidity.
As this system requires ultra-precision machining, our ratchet components are precision machined rivaling precision metal molds.


Bearing balls in a standard bike hub rest between the hub and shaft. This traditional shaft structure easily gets deformed and deflected, creating twisted bearings. The GOKISO Hub has a "deep groove "bearing structure. This structure is robust to deformation and deflection, and the rotation vibration, is minimized - contributing to a smooth rolling and a super-low friction.

GOKISO Hub has two bearings each side ("double bearing system") whereas a standard hub has a single bearing on both sides of the shaft.
In addition to the four bearings in the front, we have added extra bearings to the rear unit drive; totaling seven bearings. This new structure improves durability against static load and minimizes the bearing vibration.


Ball bearings in a bike hub must be big enough to support its load, thus, larger its diameter, the bearing balls suffer more friction and heat generation. As a result, it degrades the rotation performance. The GOKISO Hub use of 2mm-diameter"micro steel balls"made of the highest quality material used for precision machines is certainly unique. The roundness accuracy of the "Micro steel balls"is well illustrated by this is if the ball was the size of the moon, the surface roughness of the ball would be as little as 70m.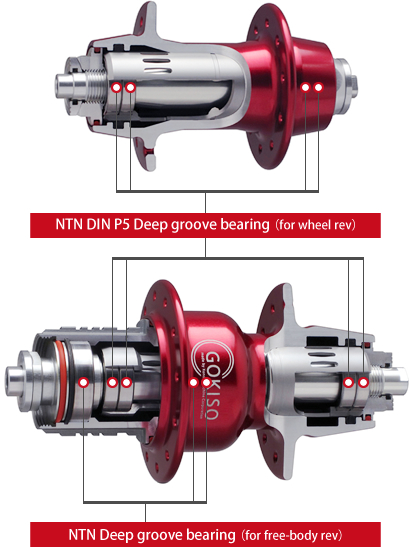 *Rear hub structure : Japanese patnent No.5406227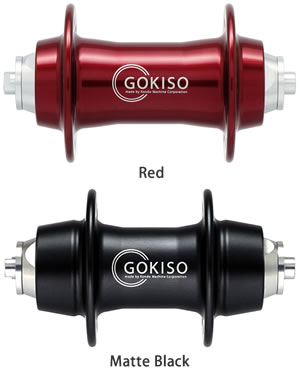 * The colours in the above photo may differ from the actual product.
Front
for 700C Road bike
Wide flange type
for small whee
Narrow flange typel
OLD
100 mm
Spoke H
20, 24, 28, 32, 36 H
Center to flange
30.1 mm / 30.1 mm
22.2 mm / 22.2 mm
P.C.D
Φ 46 mm
Recommended Spoke
SAPIM #14 CX-RAY Black
Bearing type
Non-contact sealed deep grove bearing ( DIN P5 )
Bearing qty
Double bearing application: 4 pcs / Single bearing application : 2 pcs
Weight
240 g
Rear
for 700C Road bike
Wide flange type
for small wheel
Narrow flange type
Free hub body
Camp 10・11s
Shimano 11s
(compatible to 10-8s,SRAM)
Camp 10・11s
Shimano 11s
(compatible to 10-8s,SRAM)
Compatibility
Shimano 11s ⇐⇒ Camp 10・11s
OLD
130 mm
Spoke H
24, 28, 32, 36 H
Center to flange ∗
28.0 mm / 16.3 mm
26.0 mm / 16.3 mm
P.C.D*
Φ 53mm / Ф 61mm
∗
mm / mm = left / right
Recommended spoke
SAPIM #14 CX-RAY Black
Bearing type
Non-contact sealed deep grove bearing ( DIN P5)
Bearing qty
7 pcs
Ratchet
4 pawls, 92 notch
Weight
455 g
* Product specifications are subject to change without notice.